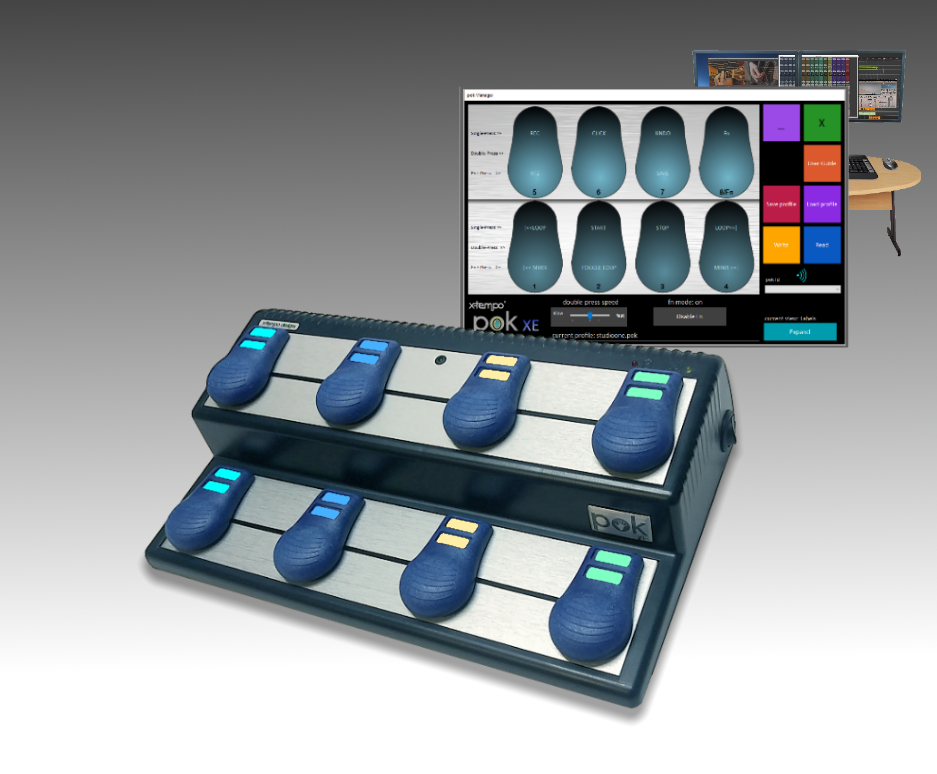 Combine the power of keyboard shortcuts and foot contol!
An extremely versatile solution to foot control your PC or Mac workstation whether it's for audio, video or other content creation software.
The pok is a smart, programmable 'pedal operated keyboard' which you can customize with any keyboard commands to add powerful foot control to your computer.
◾ Keyboard Shortcuts and Strings With Up to 6 Characters

As well as keyboard shortcuts with modifiers such as Shift, Ctrl, or Opt, you can assign strings of up to 6 keystrokes. For example, you can now program up to six "up arrows" to a given control. This greatly expands the function possibilities.

Simple Interface

The pok Manager interface allows you to view the buttons in Expanded mode where you can see all the function strings, or Labels-Only mode which displays the button labels and hides the function strings for a simpler view.

◾ Extra-Press ®

Our Extra-Press feature allows a button to be used for three different keyboard shortcuts. You can have a total of 22 shortcuts in one profile.

◾ Auto Mod Keystroke®

Our Auto Mod Keystroke feature enables an extra double-press function for each button. Double-press mode is automatically disabled if there is no shortcut assigned for double-press, thereby eliminating latency associated with setting double-press globally.

2 Commands With One Press

This feature allows you to send two keyboard commands for one press of a pok button, with a delay. This is great for simulating a double-tap keyboard control, or to turn a time-based effect on and off in a short time, such as echo. You can also use this feature to trigger a single delayed keyboard command.

◾ Offline Programming

Load and run the pok Manager software without connecting the pok XE. You can create or edit saved profiles offline. This greatly increases your flexibility in production and performance.

◾ No USB Dongle

Works with Macs and PCs without the need for a wireless USB receiver dongle. This will leave your USB ports free, and you won't have to worry about losing or breaking your dongle when you need it the most.

◾ Compatible

The pok XE can be used with computers, tablets, and phones as a foot-operated wireless keyboard emulator. No adapter needed.
* Auto Mod Keystroke, Xtra-Press, pok Director, and Key Director are registered trademarks or trademarks of X-Tempo Designs LLC.